Learn more about DOL2go, the Department of Licensing's mobile licensing unit.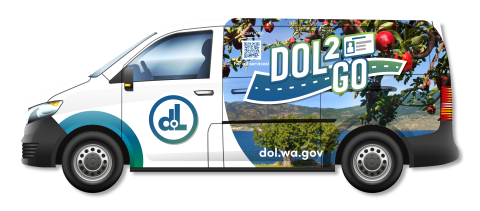 DOL2Go is an exciting new program supporting communities around Washington. The DOL2Go mobile unit provides onsite ID card and driver licensing services to people with barriers to visiting our traditional offices. You may find us in rural communities, assisting people experiencing homelessness, community centers, and emergency response events.
DOL2Go services offered
DOL2Go focuses on helping under-resourced Washington residents get the services they need to live, work, drive and thrive. The mobile unit offers the same services as our traditional offices, including: 
First time Washington driver license or ID card, including enhanced
Out-of-state transfers
Renew driver license, permit or ID card
Driver record
Reinstatement letters
Document review for proof of identity 
Want DOL2Go to come to you?
If you are an organization or municipality that would like DOL2Go services in your community or at an event, please email DOL-2-Go@dol.wa.gov. Please note, DOL2Go does not make individual house calls and not all requests can be accommodated. In your email, please include details of your event or need:
Approximate number of attendees who would need DOL services

Location where event would take place

Date and time (if scheduled)

Your contact email and phone number
DOL2Go Calendar